INTRODUCES
Baby Ian
WEIGHT LENGTH
3 lbs 6 oz 16" preemie
Baby Ian was born here at Innocence Found Nursery on 7/21/12.
He was born several weeks early, so he is a precious preemie.
~ ~ ~ ~ ~
He started out as a vinyl sculpt by the very talented sculptor Natalie Scholl.
This sculpt is LONG SOLD OUT, and very hard to find. He has full limbs.
Baby Ian's skin tone was created to duplicate the look of a real preemie, with the ruddy tones, and thin skin look.
Special attention was paid to every detail of the preemie skin appearance, from the mottling, to the bluish undertone, veins and capillaries. If you look close you can also see yellowish undertones, frequently seen in preemies and newborns.
He looks sooo sweet and comfy.
All of the pictures were taken outside in full sunlight. It was such a beautiful day and it really helps you to see Ian's detail and skin tone. Due to the changes in the sunlight throughout his photo shoot, you will see his skin tone changing from a paler blue tone, to a reddish tone. I found this great for showing the depth of his coloring and his subtle veining.
Baby Ian enjoying a nice snooze outdoors.
A closer look at Baby Ian's hair.
I attempted to duplicate the ultra fine and sparse hair of a real preemie. If you look closely, you will see the top of his head is mono rooted (one fine hair at a time) and blended into the thinner area on the sides and back of the head. This is where I painted fine hairs to depict the extremely fine, barely there hair.
| | |
| --- | --- |
| Baby Ian has a faint cow lick in the front of his hairline | Notice the faint veining visible on Ian's forehead. |
| An adorable cow lick in the back of his head too! | His eyelashes are rooted, and the lids are done to look thin skinned. |
Also, notice the moisture in his nostrils and corners of the eyes.
Notice again the different looking skin tones with the different angles of the sun.
Now for a few more details..... Baby Ian is weighted with tiny glass beads, and filled with soft poly-fill. He has no sand in him, so will be clear to go overseas.
He has NO magnets in him, so he is safe for mommies who have pacemakers.
Baby Ian will come with his birth certificate and care sheet. If you would like to change his name before he comes home, please let me know and I will be sure it is reflected on his birth certificate.
Please remember that Ian needs an adult to care for him, as he is NOT A TOY for children.
However he is hoping for siblings to share his new life with.
Coming Home/Travel Expenses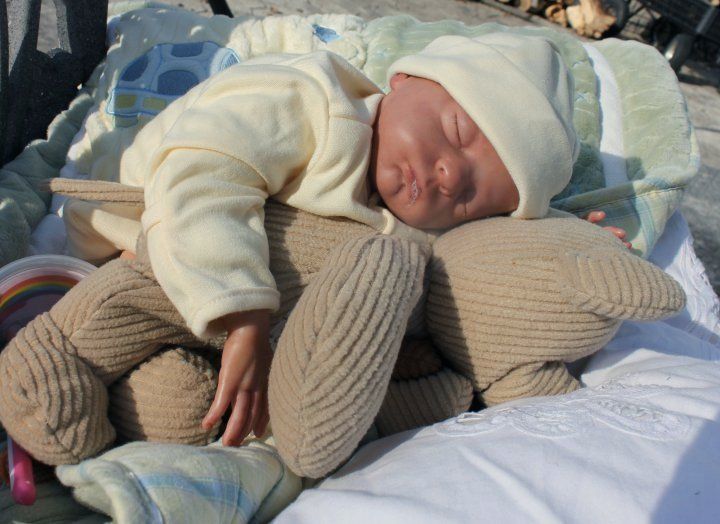 I CHARGE ONLY THE ACTUAL SHIPPING FEES, SO IF YOU ARE OVER GHARGED BY MORE THAT $1, I WILL REFUND THE DIFFERENCE.
Baby Ian will be traveling via Priority Mail, insured and signature confirmation, to be very sure that he arrives to his new mommy with no problems.
He will be carefully wrapped in his receiving blanket (the blue one with the stars on it), along with his beloved Corduroy Teddy Bear. He will be coming home in his snuggly jammies and matching hat, and of course his white onesie. Any other items seen in this photo shoot are props and not included.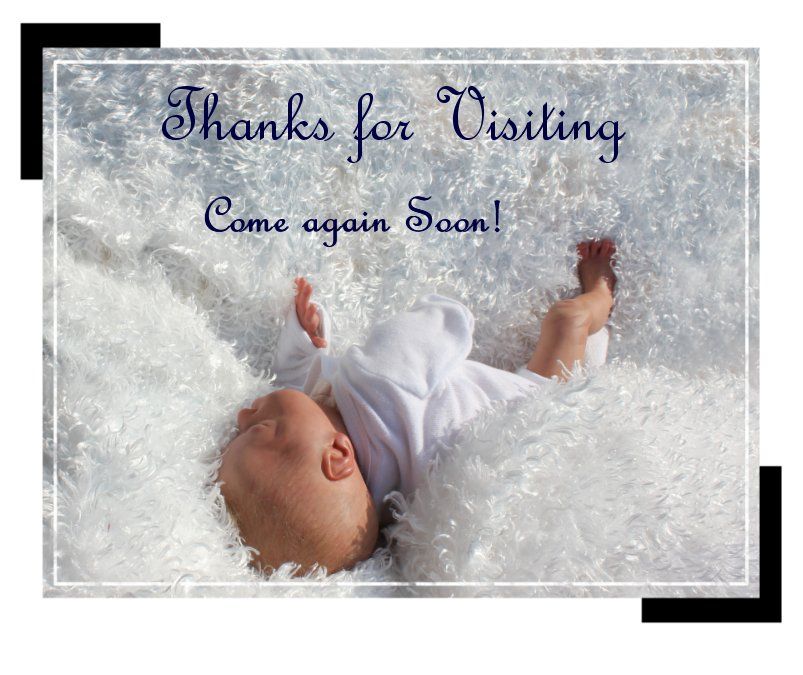 ADOPTED ! !
Congratulations Chandra of Idhao
Template Designed by . . . . . Innocence Found Nursery